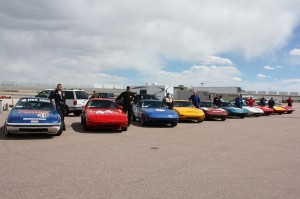 Spec 7 is the most cost-effective way to go door-to-door road racing. With minimal cost and preparation, you can have a competitive race car. No other class offers the high level of competition Spec 7 does for the price. This is truly a driver's class. Where improving your driving skills is the key to winning… not the size of your wallet.
Spec7 is a road racing class for drivers in identically prepared 1st generation Mazda RX7's. Spec7 competition is close and is possibly the lowest cost class in SCCA road racing.
Building a Spec7 car costs between $4,000 to $7,000. You can also look for race ready or cars that need to be updated, this can bring your cost down also. Racing it can cost anywhere from $300-$600/day, including gas, tires, entry fees, etc. Tires are about $145 each new and last 3-5 races. (That is really cheap road-racing).
Not sure if it's for you? Come to a race and meet us! Watch the races, maybe even get a ride in a race car on the track. You can even rent a Spec7 and try it out.